Melbourne`s Lanes
Aaron Hewett
For those who are interested, I've started taking photos of Melbourne's CBD lanes.
There are approximately 180 of these things between Spencer, Spring, Flinders and LaTrobe Sts, and if I do one per week it will take me 3.5 years.
The photos will be uploaded once a week to my Lanes of Melbourne blog.
Meanwhile, we can debate the merits of these laneways - whether you feel they are an appealing part of the city landscape or are a major security concern. The debate can take place on here or on my main blog - Urban Creature.
And congrats to CvP for it's one year anniversary!! A year active in cyberspace is a very long time!

General 3rd August, 2004 13:47:04 [#]
Comments
Argh!
I seem to have accidentally posted this twice. A common mistake I'm sure.

Russ, can you delete this one. Thanks.
Aaron Hewett 3rd August, 2004 13:48:41

Very nice.
Common, but you are the first person to make it :-)


I like it Aaron.

One thing you might be interested in. There is a pamphlet on the naming history of Melbourne's streets and laneways available at tourist information too (ask at the desk, it is hidden).

I've updated a bunch of the links on the right
Russ 3rd August, 2004 14:09:14

Ah, curse you!
I've been doing exactly the same thing...but generally at night. You'll find so many cool lightings and such at night in the laneways. Of course, going into some laneways are night requires a certain degree of insanity (or should that be stupidity?) Anyhoo, this is one I took of Duckboard Place...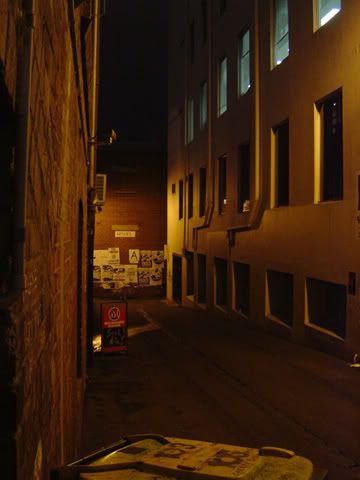 If you follow Duckboard Pl all the way around at certain times at night, you'll discover some funky stuff. Seriously.
Tom 3rd August, 2004 20:56:09

Corporation Lane
Duckboard Pl. is the other side. Though where one ends and the other starts is not mentioned in the Melway.

Corporation Lane was mooted for a change to AC/DC Lane, but has been dropped (yay!). Not that I'm opposed to all name changes, but they should reflect some association with the history of the place.
Russ 3rd August, 2004 22:35:09

Ah yes
I forgot that little detail...curses.
Tom 4th August, 2004 11:42:34

AC/DC?
Cmon, I need a debate. Why not accadacca lane? It's an awesome idea. It would only improve the lane wouldnt it? Discuss.
Dicko 5th August, 2004 22:39:03

An improvement?
Well, first I guess, the bars along the lane protested the idea, so we can assume that they at least don't see it as improvement - though probably because of the associated transition costs to them.

But, it is just a name, and to quote Shakespeare, "a rose by any other name, would still smell as sweet". So the real question is why do we name things? It is obviously to distinguish them from other places, in the most recognisable way.

The CBD laneways - and to a lesser extent the streets - are named for places and people in it's history. They are as important part of the fabric and heritage of the city as any building, if not more so. In this case, Corporation Lane refers to the position of the old works depot for the city council, while Duckboard Place was opposite Duckboard House - an entertainment centre for troops in WWII. Now, those are obviously not there anymore, so perhaps we should rename them BUT not on something as facile as a celebrity with limited links to the city itself and none to the laneway in question.
Russ 7th August, 2004 16:18:10

An improvement
Yes, I am well aware of why the lanes are named what they are and even being the incredibly biased AC/DC fan that I am, I feel that those links need to be retained. But would we be against renaming elsewhere? Discuss.
Dicko 8th August, 2004 00:00:22

Sure, why not
I am reluctant, obviously, to lose heritage, but there must be a few lanes which don't have names. In QV for instance - although there used to be named lanes on that block - or according to the Melway opposite Balcombe Pl. There is also a Drewery Place, Lane and Alley, so any of those could change (well, not the Lane). That would be an improvement.
Russ 8th August, 2004 10:29:30