I know a place!
Citizen #381277
I know a place...where I can wake up with mosquitoes biting my exposed body.
I know a place...where I'll need a car to get from A to B.
I know a place...where I'll be able to gaze over an endless vista of colourbond rooves.
Yes, I'm talking about the south east's newest "master-planned" community, Lakeside. To get a sense of the utter stupidity of the estate, let us first associate ourselves with its location in Greater Melbourne.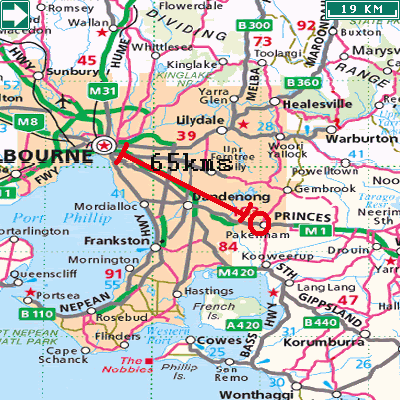 It's about 65kms from the GPO. "So what?" I hear you all call out, well, the estate is located on what is becoming one of the busiest stretches of road in the South East. But I digress, the main topic of this post is to scrutinise yet another Yank-like Legoland Fucksville. Lets start at the beginning, shall we children?
Lakeside covers 222 Hectares, made up of approximately 2,300 lots, with provision for the population to reach 6,500 by 2010.
Now, these figures represent current census figures of 3.2 approx persons to a household, yet Lakeside is billed as the place to bring up a family...of course, there is a school planned for the eventual single mother flood, so lets hope it's a state school.
Sport and Recreation- Approximately 15km of hike and bike trails along Toomuc Creek and throughout Lakeside.
Great, I love hiking. What they don't tell you is the tranquil Toomuc Creek is, at best of times, a rubbish filled cess-pool cleverly disguised by token planting of semi-mature trees. I know I'd want my children (if I ever have any, god-forbid) playing near such a beautiful environmental flow...
The Lake and the Creek
No gated community would be complete without some sort of lake *coughretardingbasincough* or water feature, after all, if you can see water from you're front veranda (mock period bullnose finishing, naturally), then your house price will skyrocket. Ahem. The residents of 'Creekwood Village' got shafted. They get to wake up to the lovely smell of fetid swamp water and the never ending buzz of mosquitoes because, yes, you guessed it, the 'master planners' decided to put the retarding basin for the estate in this area. Crudely disguised as a wetland, the Lakeside retarding basin is nothing more than a glorified sump which is already showing signs of gross inadequacies in it's function. Almost dry in summer, flooding in winter, there is no middle ground in which native fauna might actually find a home.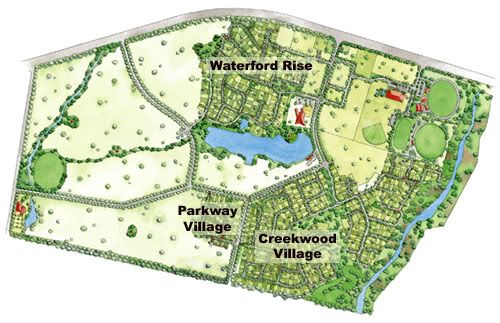 Now, before I get too angry, I'd best finish with a few closing remarks...
Apparently, Lakeside is a place where you can;
- "enjoy greener, wide open spaces.
Indeed, I love the sight of green colourbond roofs receding into the distance...
- cultivate a 'sense of belonging.'
Of course! Don't worry, it wasn't just you who thought putting random letters into your child's name was a good idea. Now Bilynda-Jayde can frolic in the green green waters of the lake with Eppony Rae and Dilyn-Lei.
- get the most out of life...
...as you struggle to escape your local cul de sac in time to get to the on-site petrol 'complex' to fill up before driving into the city to get to work. Or even better, getting up at 4 hours before you need to get to work just so you can walk to the station and wait (with some of resident youth chroming) for a shitty, out of date electric train to take you somewhere.

I know where I'm not living in my later years...


Planning 15th August, 2004 22:55:44 [#]
Comments
Pictures
When I go home on the weekend, I'll stop by this place and take some pictures to back up my rambling, ranting piece.
Tom 15th August, 2004 23:01:11

Godlike
You forgot to mention Jaidyn. And you need at least one reference to Holden, V8 Supercars and Mullets. Hang your head in shame Tom.
Hugh 15th August, 2004 23:06:00

But wait...there is more
Cardinia Shire Council have now proposed to "redevelop" Pakenham Golf Course to be the home of 600 more colourbond roofs smack bang in the middle of a flood zone, but the 1-in-100 flood will be "mitigated" by a mozzie riddled "wetlands"...Did I mention the this little Legoland is surrounded by rural residential? Of course...this all makes sense
Carla 31st August, 2004 10:54:35